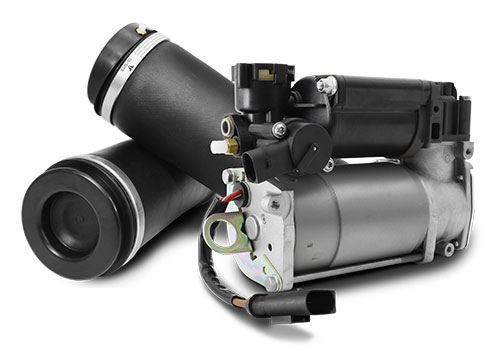 You may wonder who we are and what we do, we are not new to the automotive industry, with over 40 years of experience manufacturing parts in the aftermarket automotive industry, we guarantee superior quality from aftermarket, remanufactured to original equipment.

We specialize in making rock solid parts that withstand the test of time. With a true understanding of our marketplace, we have become the industry leader in innovation of aftermarket suspension. Our suspension systems are top of the line products built to meet or exceed OEM specifications, and we're a full line supplier of air ride control and conversion kits.
AIR SUSPENSION
• Restore your Suspension with Factorylike Air Ride Components
• Cost at a Fraction of the Dealer Price
• Coverage consists of all Components for a Full Suspension Restoration
• Complete Coverage to Satisfy all Air Suspension Replacement Needs
CONVERSION KITS
• Low Cost Alternative to Air Suspension
• No Sacrifice of Ride Height or Quality
• Improve Consistency of Carry Load & Handling
• Complete Coverage to Satisfy all Air / Electronic Suspension Air Replacement Needs
We have established an infrastructure to meet the ever-evolving demands of our clients, and we pride ourselves in our ability to service each and every customer.